Introduction and scope of services
Salesforce offers an important product- the Marketing Cloud is a Salesforce platform in the marketing automation and customer engagement domain. It is an amazing SaaS platform offering different levels of functionalities. Marketers can deliver the right messages at the right time in the campaign timeline covering the duration of the relationship. The Marketing Cloud covers every customer interaction. 
Scope of integrated solutions: 
Salesforce Marketing Cloud offers integrated solutions, and these are: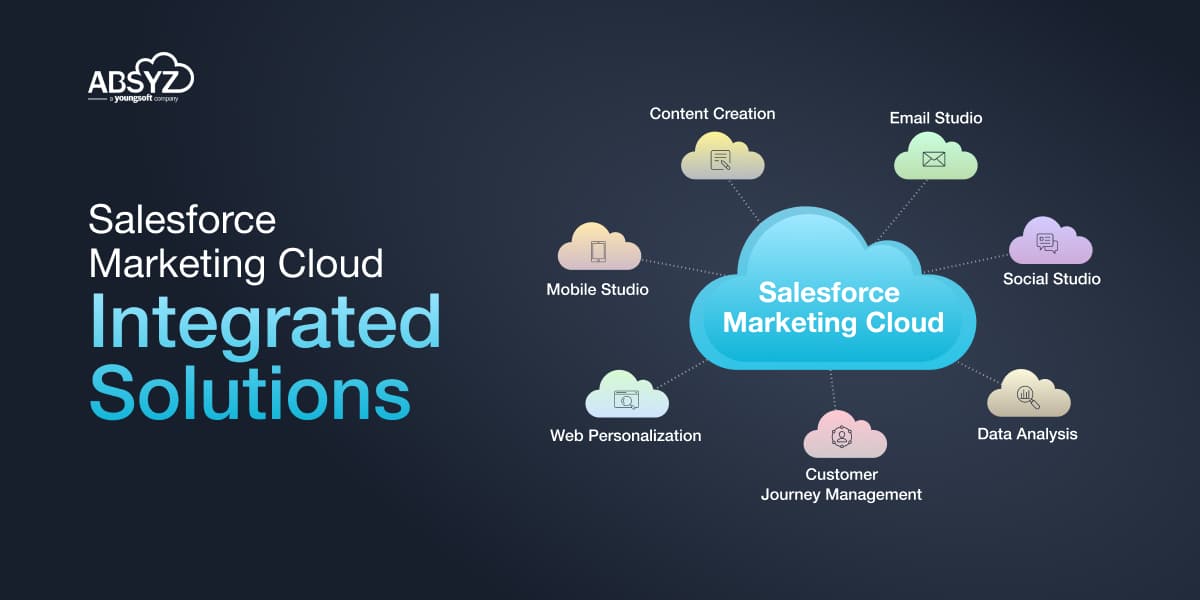 This integration cements the achieving primary objectives and builds new goals, offering a view of the customer's journey.
Benefits of Salesforce Marketing Cloud 
1. Ideal for preparing a customized customer journey
All interactions are personalized using the power of Marketing Cloud, and the customer journey becomes an everlasting experience for the brand. When there are personalized touchpoints in the beginning, subsequently, after going forward, one can enhance the use of functionality and data of Marketing Cloud.
2. Comprehending the consumer-base 
A feature of the Marketing Cloud is that it connects data with marketing processes and helps optimize them. There is an insight into all the work and clarity.
3. Well-defined call to action 
With the extensive knowledge of the profile attributes, customer behaviors, and interests, there can be a targeted call to action which will be a boon in the long run. This goes through the right channel (mobile, social, or email). There is an outreach that resonates with them.
4. The Power of data analytics
As the hosting of Marketing Cloud is on the cloud, there is no need to buy additional servers for company data. The result is an efficient and organized marketing process. All the facts about customers and marketing campaigns are available on the platform, giving easy access. 
5. Delivering the finest marketing campaigns
Marketing Cloud brings several opportunities and permits the users to connect any interaction from any channel on their terms. There is real-time intelligent communication and interaction with the customers. It helps to create and deliver intelligent and relevant content on the channels of preference of the customers.
6. Efficient Data Management
Through the Contact data and Journey data, one can know the customer journey phases. It reveals the nature of interactions with each email. It helps in communicating timely information besides offering service or support. These measures help drive customer engagement and create a valued customer relationship. When rich data is available, it helps in campaign performance analysis.
7. Immense Integration Capabilities
With the presence of the REST API and SOAP API, Salesforce Marketing Cloud provides immense integration capabilities. This leads to an augmentation of existing contact information in SFMC and relevant importing of content.
8. Presence of Third-Party Applications
The goal of Salesforce Marketing Cloud is to increase its capabilities and customize business goals. Some third-party applications, even from the Salesforce AppExchange, go a long way to meet the customer requirements and deliver excellent services. Apart from the AppExchange other third-party products from Salesforce partners integrate with SFMC and enhance the functionality and value.
9. Using Artificial Intelligence
Salesforce uses Einstein, the artificial intelligence technology, offering a series of applications within the Marketing Cloud covering the areas of Engagement, time optimization to send a message to the people, Engagement frequency, and ensuring a personalized experience that goes forward to prevent disengagement. 
10. Audience engagement at every customer touchpoint
Marketing Cloud leverages a full 360-degree view of all customers using the platform\'s power. It facilitates a company to be driven by customers.
Data about Companies using Salesforce.com Marketing Cloud
As per enlyft, there is data on 7,334 companies that use Salesforce.com Marketing Cloud. The companies using Salesforce.com Marketing Cloud are most often found in the United States and the Computer Software industry. Companies most often use Salesforce.com Marketing Cloud with 50-200 employees and 1M-10M dollars in revenue.
It also mentions that looking at Salesforce.com Marketing Cloud customers by industry, we find that Computer Software (15%), Information Technology and Services (8%), Retail (6%), Marketing and Advertising (6%), and Financial Services (5%) are the most significant segments.
Conclusion
To conclude, we can say that the customers can also select add-on features to suit their specific needs and adapt them for better results. Salesforce Marketing Cloud is an extensible platform that evolves with the organization and has an impact. It is helpful in supporting an enterprise data model; and is of great help in training also. We assure you that we will guide you to our fullest abilities and realize your goals for all your project requirements. We bring all these unique benefits from Salesforce marketing cloud, and you can contact our professionals and experts for assistance.