Introduction:
I am absolutely thrilled and honored to share the extraordinary awards and achievements of ABSYZ over the past few years. Being part of this incredible journey for the past 4+ years fills me with immense pride. ABSYZ, a leading Salesforce services partner and leader in digital transformation, has consistently demonstrated its commitment to technology and innovation, resulting in widespread recognition and numerous accolades.
Here I would like to talk about ABSYZ's remarkable accomplishments. Let's take a retrospective look at the company's notable achievements and the prestigious awards it has received from renowned organizations. ABSYZ has been honored by Startups World Network, Red Herring, Pledge, Platinum Partner, Nasscom, CMMI SVC/3, Great Place to Work, and Times Business Award. These accolades are a testament to ABSYZ's unwavering dedication and excellence in the industry.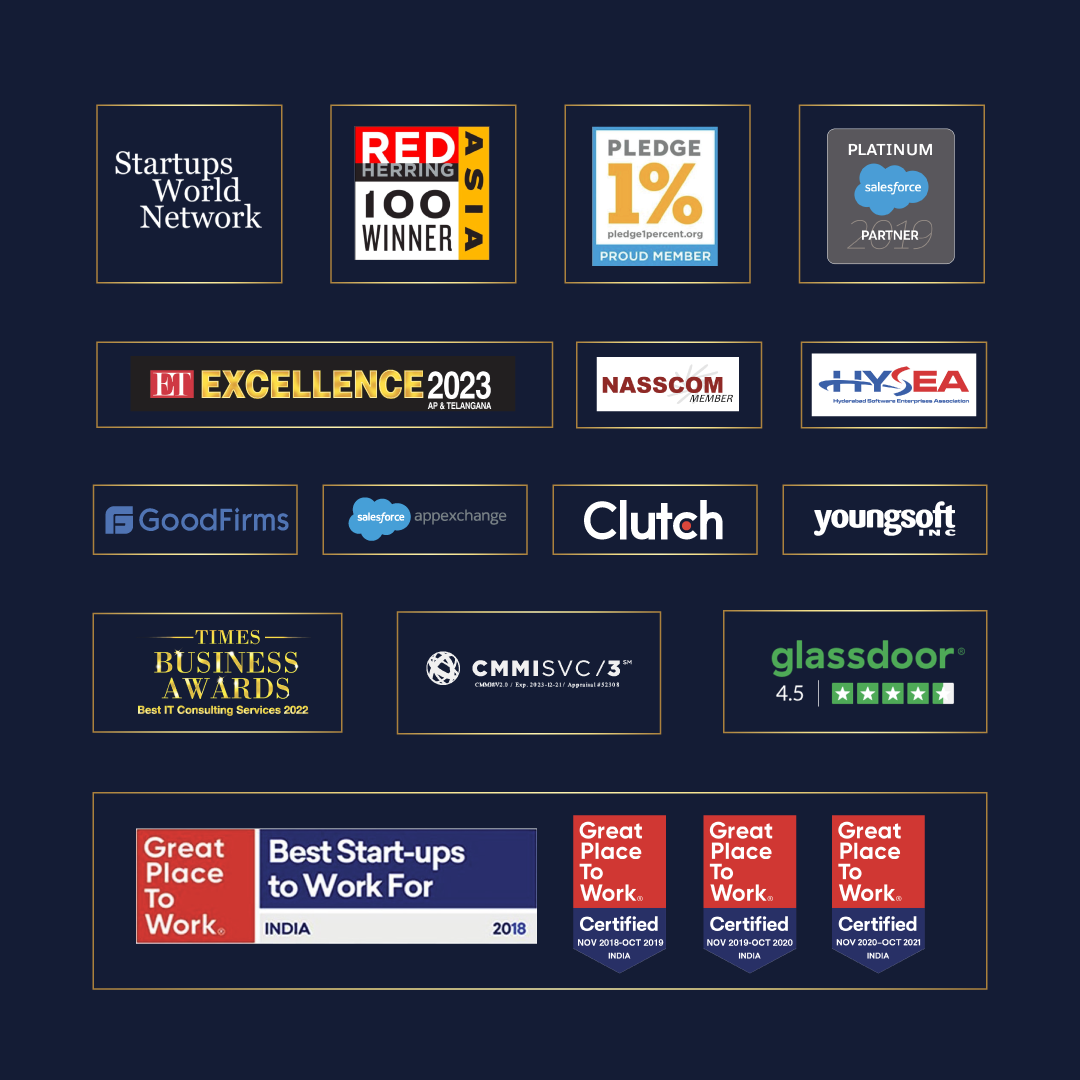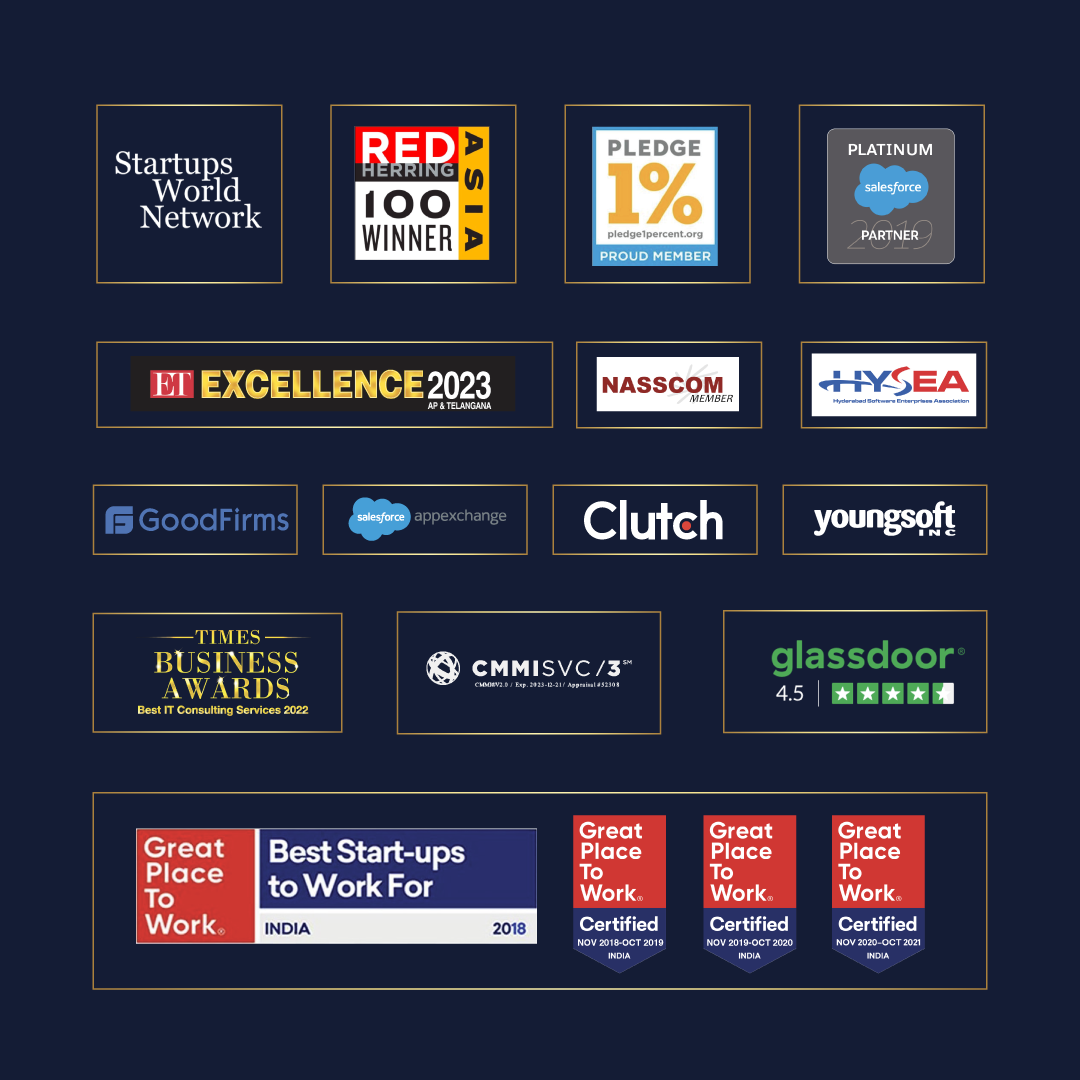 1) Red Herring: (2016)
ABSYZ's receipt of the prestigious Red Herring Award in 2018 further solidifies its position as a leading technology firm. This accolade is renowned for recognizing and honoring companies at the forefront of innovation, exceptional growth, and market leadership. ABSYZ's ability to continuously push the boundaries and maintain a competitive edge in a rapidly evolving market is exemplified by this award. It serves as a testament to the company's unwavering commitment to excellence and its capacity to deliver cutting-edge solutions.
2) Startups World Network: (2018)
Membership in the esteemed Startup World Network underscores ABSYZ's innovative and groundbreaking strategies. This global network brings together influential startups from various industries, and ABSYZ's inclusion highlights its significant impact on the startup ecosystem. The recognition bestowed upon ABSYZ by this renowned network amplifies the attention given to the company's creative solutions and its ability to drive positive change within the startup community. ABSYZ's presence in the Startup World Network serves as a testament to its commitment to fostering collaboration, knowledge sharing, and disruptive growth.
3) Great Place To Work: (2019, 2020, 2021)
ABSYZ's consistent recognition as a Great Place to Work for three consecutive years reaffirms its dedication to cultivating a positive and thriving workplace culture. The company places a strong emphasis on fostering collaboration, maintaining a healthy work-life balance, and prioritizing employee well-being. This recognition is a testament to ABSYZ's unwavering commitment to providing an exceptional work environment where employees can thrive. The belief that a happy and motivated workforce fuels innovation and success lies at the core of ABSYZ's values. This milestone serves as a motivating factor for ABSYZ to continue investing in its people and maintaining an inspiring workplace. The company expresses gratitude to its incredible team members for their contributions in making ABSYZ an outstanding workplace. Together, ABSYZ and its employees are poised to achieve even greater heights.
4) Salesforce Platinum Partner: (2019)
ABSYZ's attainment of Platinum Partner status within the Salesforce ecosystem highlights its extensive knowledge and superior quality service capabilities. This esteemed recognition from Salesforce, a global leader in customer relationship management solutions, demonstrates ABSYZ's expertise and competence in delivering exceptional results. The Platinum Partner status serves as a testament to ABSYZ's dedication to providing cutting-edge solutions and ensuring customer satisfaction. As a trusted and reliable technological partner, ABSYZ continues to strengthen its position in the industry, building trust and confidence among its clients.
5) Times Business Award: (2022)
The Times Business Award bestowed upon ABSYZ in 2022 acknowledges the company's significant contributions to the business world. This prestigious honor recognizes ABSYZ's inventiveness, leadership, and valuable contributions to the sector. ABSYZ's ability to drive innovation and make a positive impact within the business landscape sets it apart. The Times Business Award serves as a testament to ABSYZ's commitment to excellence and its dedication to delivering transformative solutions that drive business growth and success.
6) CMMI SVC /3: (2022)
ABSYZ's attainment of the CMMI SVC /3 version 2.0 certification in 2022 showcases the company's adherence to widely recognized service management principles. This certification demonstrates ABSYZ's commitment to providing top-notch services and ensuring client satisfaction. The CMMI SVC /3 certificate serves as an assurance of ABSYZ's operational excellence and its ability to consistently deliver high-quality solutions. By adhering to rigorous service management practices, ABSYZ reaffirms its dedication to meeting and exceeding customer expectations. This certification signifies the trust that clients place in ABSZY.
7) Pledge1%: (2019)
ABSYZ's partnership with Pledge1% reflects its strong commitment to social responsibility and sustainable practices. Through this partnership, ABSYZ pledges to donate 1% of its profits, time, or equity to support charitable causes and make a positive impact on society. This alignment with Pledge1% underscores ABSYZ's values and its dedication to fostering meaningful change. By prioritizing ethics and actively supporting charitable initiatives, ABSYZ solidifies its position as a socially conscious industry leader. The company aims to inspire other businesses to embrace similar values and contribute to their communities, showcasing the transformative power that businesses hold. ABSYZ partnered with Salesforce.com and Pledge1% to follow the 1-1-1 rule. This commitment entails donating 1% of profits, time, or equity to charitable causes. ABSYZ's dedication to social responsibility inspires other businesses to embrace similar values, making a positive impact on society. Together with Salesforce and Pledge1%, ABSYZ leads as a socially conscious industry leader, driving meaningful change for a better future.
8) Nasscom: (2022)
ABSYZ's affiliation with Nasscom, a recognized trade organization in the IT and business process management industries, highlights the company's credibility and expertise in providing top-notch solutions. By actively participating in the Nasscom community, ABSYZ showcases its industry leadership and commitment to advancing technology. The association with Nasscom provides ABSYZ with a platform for knowledge sharing, networking, and staying abreast of the latest industry trends. This affiliation further solidifies ABSYZ's position as a trusted and respected player in the IT sector.
9) HYSEA: (2019)
ABSYZ's association with HYSEA, a leading IT and ITES industry association, underscores its significant contributions to the technology landscape. Through active participation in Hysea's initiatives, ABSYZ showcases its commitment to fostering collaboration and promoting growth within the industry. Membership number 590 signifies ABSYZ's engagement and involvement in Hysea's activities. By collaborating with other industry leaders and sharing expertise, ABSYZ contributes to the overall advancement of the technology sector.
10) Clutch: (2016)
ABSYZ's recognition by Clutch, a reputable B2B review platform, highlights the company's outstanding performance and customer-centric approach. This acknowledgment further solidifies ABSYZ's position as a trusted technology partner known for delivering exceptional results. The recognition from Clutch serves as a testament to ABSYZ's dedication to customer satisfaction, innovation, and high-quality service delivery. Clients can rely on ABSYZ's expertise and track record of success when seeking reliable and transformative technology solutions.
11) Good Firms: (2016)
ABSYZ's recognition by Good Firms, a leading research and review platform, showcases the company's excellence in delivering top-notch solutions and services. This accolade affirms ABSYZ's expertise, client satisfaction, and industry leadership. The recognition from Good Firms serves as a testament to ABSYZ's commitment to providing innovative and effective solutions to its clients. ABSYZ's ability to consistently meet and exceed client expectations solidifies its position as a trusted technology partner.
12) Glassdoor: (2011)
ABSYZ's positive rating and reviews on Glassdoor, a renowned platform for employee feedback, reflect the company's dedication to maintaining a thriving work culture. This recognition affirms ABSYZ as a company that values its employees and provides an environment conducive to professional growth and success. ABSYZ's commitment to employee well-being, career development, and work-life balance is reflected in the positive feedback received on Glassdoor. The recognition on Glassdoor reinforces ABSYZ's reputation as an employer of choice and a company that prioritizes its employees' overall satisfaction and happiness.
13) Appexchange: (2011)
ABSYZ's expertise in Salesforce solutions was acknowledged through its listing on the Salesforce AppExchange, a marketplace for business applications built on the Salesforce platform. ABSYZ's products, such as ConnectEazy, Junction Builder, Multiple Lead Converter, have gained significant recognition within the AppExchange community, accumulating over 10,000+ downloads. This recognition demonstrates ABSYZ's competence in developing and delivering high-quality applications that enhance business processes and drive efficiency. The listing on the Salesforce AppExchange establishes ABSYZ as a trusted provider of innovative solutions within the Salesforce ecosystem.
14) Youngsoft Acquisition
In 2019, Youngsoft successfully acquired ABSYZ, a renowned company, opening new opportunities in the software development and technology solutions sector. Absyz, known for its expertise in cloud-based solutions and digital transformation services, had a strong reputation and loyal customer base prior to the acquisition. By joining forces with Youngsoft, an enterprise solutions and IT consulting services provider, ABSYZ aimed to expand its reach and enhance capabilities. This collaboration allowed for accelerated growth and increased client satisfaction, empowering Youngsoft to offer a comprehensive suite of services. The acquisition exemplified the dynamic nature of the tech industry and the value of strategic partnerships, benefiting both ABSYZ and Youngsoft.
Conclusion: 
ABSYZ's journey is adorned with numerous achievements and prestigious awards, symbolizing its relentless pursuit of excellence and unwavering commitment to delivering exceptional solutions and services. These accolades are a testament to ABSYZ's dedication, innovation, and industry leadership.  
Join us as we delve into the realm of ABSYZ's achievements, celebrating the milestones reached and the positive impact the company has made in the world of technology. It is a true testament to the talent and passion of the ABSYZ team.
I am incredibly proud to be part of ABSYZ, and I invite you to read the blog post and share in our joy. Let's honor this remarkable journey together!